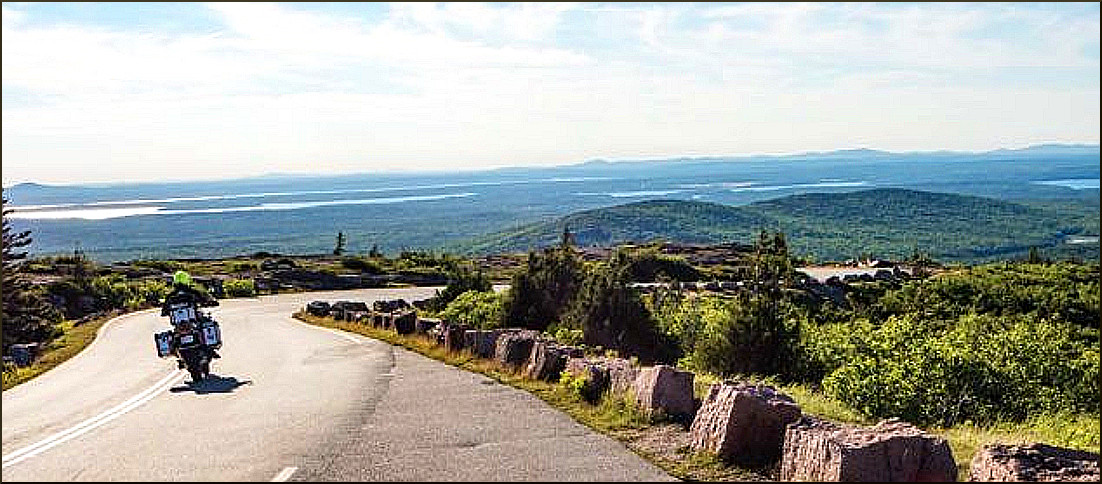 QUICK LINKS
About This Tour
Where We Go
Tour Highlights
Tour Cost
Brief Tour Description
Key Dates
Minimum Number of Tour Members
How To Book This Tour
ABOUT THIS TOUR
This tour is all about Maine, more specifically the coast of Maine. The direct coastal way from Kittery in the south to Lubec at the Canadian border is appox 275 miles. The indirect way wandering in and out of all the inlets and fingers of land jutting into the ocean adds up to approx 3,480 miles of actual coast. It's that indirect way that we focus on with this tour. We "immerse" ourselves in everything coastal from rocky coast roads to small fishing villages to famous lighthouses. Maine is a truly unique place. This tour will show you why so many people love it so much.
| | |
| --- | --- |
| DATES 2022: | August 11 – 17 |
| DATES 2023: | August 10 – 16 |
| DURATION: | 6 Riding Days/7 Nights |
| START/FINISH: | Hampton NH/Hampton NH |
| DISTANCE: | 200 – 240 miles per day – Asphalt roads |
| DIFFICULTY: | 3 out of 5 |
| STATES VISITED: | New Hampshire, Maine |
| LAYOVER DAYS: | 2 Bar Harbor (can ride or rest) |
| ACCOMODATIONS: | 3 to 4 star hotels and inns – classic historic early New England style |
| MINIMUM # OF RIDERS: | 5 |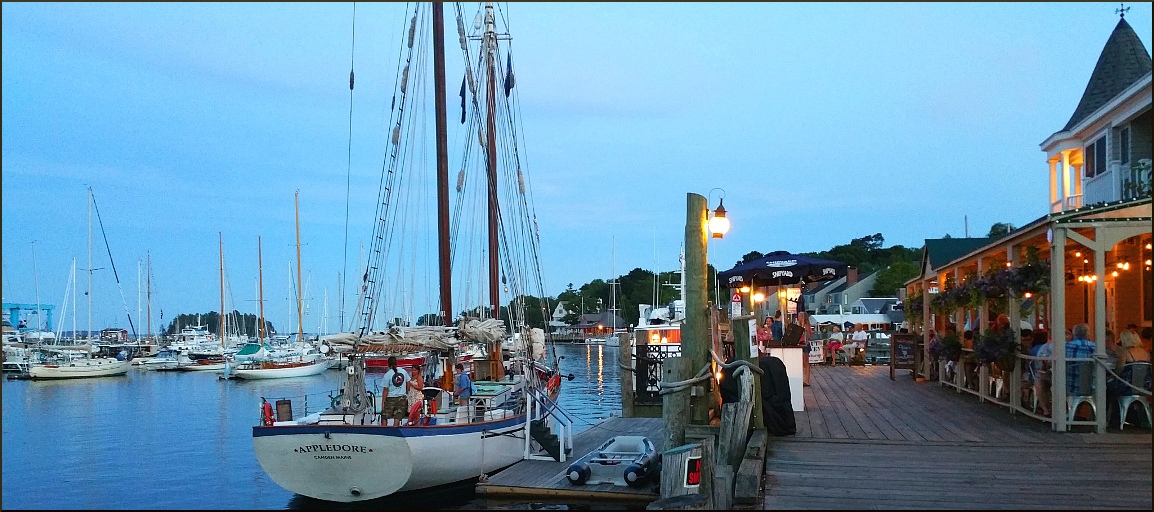 WHERE WE GO
NORTHERN NEW ENGLAND
Day 1 – Hampton (NH)

Day 2 – Rangeley (ME)

Day 3 – Bar Harbor (ME)

Day 4 – Bar Harbor (ME)

Day 5 – Bar Harbor (ME)

Day 6 – Booth Bay Harbor (ME)

Day 7 – Hampton (NH)
TOUR HIGHLIGHTS
Special Places – Bar Harbor Maine and Boothbay Harbor Maine are two of the most quintessential Maine coastal town destinations

Special Roads – Evans Notch, Rangeley Lake Byway, Park Loop Road – Acadia National Park, Schoodic Scenic Parkway plus several other memorable rides

Special Stops – West Quoddy Head Light, Penobscot Narrows Bridge Observatory, Pemaquid Point Lighthouse, Camden Hills State Park

Special Things to Do  – Ocean Kyaking, Sunrise Cadillac Mountain, hiking and bicyling, various activities at Acadia National Park
MOTO-CHARLIE reserves the right to alter the exact route at his discretion.
TOUR COST
The cost for this tour at the current exchange rates will be:
Single rider in a single room

$2,640

 – MAINE COAST WANDER
Couple riding two-up sharing a double room

$3,700

 – MAINE COAST WANDER
These cost numbers should cover your direct tour costs including all hotels, all meals, gas and my fee. Please note that these tour costs also reflect high season hotel rates in effect from July 1 through September foliage season.
BRIEF TOUR DESCRIPTION
We base out of Bar Harbor for 3 nights on this tour, which sits on Mount Desert Island. The island is also home to Acadia National Park with it beautiful Loop Road, stunning views from Cadillac Mountain as well as several fishing small villages. We also visit the mainland portion of ANP and do a loop ride all the way to the furthest eastern point of the mainland United States. We will visit several postcard perfect harbor towns, gaze upon some of the most famous lighthouses in America and maybe even stop at LLBean – this tour has it all.
Most people like to arrive at least one day ahead of time to rest, see the local sights, ride the area around our base or maybe just to meet the other riders on the tour. If that is you then I  offer a free 1/2 day ORIENTATION DAY to all Tour Members. I'll be more than glad to help you plan whatever activity might be of interest to you.
Day 1 – Before we get to the coast we spend some riding time traveling through the forests and lakes while visiting some of Maine's inland regions. These regions are very different from the coast, but equally popular with outdoor enthusiasts, hunters, hikers, snowmobilers and others. The idea is to provide some contrast of what Maine has to offer while positioning us to ride the coast north to south without repeat. Our route will include Evans Notch and sees us ending our day in Rangeley Maine on the shore of Rangeley Lake.
Day 2 – We continue along the Rangeley Scenic Byway as we work our way over to the coast heading for Mount Desert island. Our route will take us along some of the more highly rated motorcycle roads in northern Maine. If you're a Stephen King fan we might even be able to sneak in a view of his unique home in Bangor. We should arrive at our lodgings in Bar Harbor in time for a nice stroll or well deserved cocktail before dinner. Bar Harbor is a bustling town in the summer and a great place to spend a few days.
Day 3  – We devote a good part of today to enjoying Acadia National Park. The Loop Road though the Park along the coast is one of the prettiest roads in north America. We will also ride to the top of Cadillac Mountain to enjoy the 360 degree views and visit some smaller fishing villages. In the afternoon we can do another loop off the island that includes the mainland part of Acadia National Park. Here again it's another beautiful coastal road, less crowded with awesome views across Frenchman's Bay looking back at Mount Desert Island. We work our way back into Bar Harbor and another wonderful dinner.
Day 4  – Hopefully the weather cooperates because today will be a fairly long loop ride east to West Quoddy Head Light, which despite the word "west" is the eastern most point of land in mainland USA. The lighhouse is also a photo magnet. Along the way we explore several fishing villages like Jonesport, Michias and other beautiful scenic places. This area is more remote, quieter and the favorite region of many true "Mainers". We then loop our way back to Bar Harbor for our final well-deserved dinner on Mount desert Island..
Day 5 – Today we will start to work our way south. This ride will include stops at some of Maine's most beautiful coastal towns like Camden and Rockport. We will also stop at the Penobscot Narrow Bridge Observatory, which is the only bridge observatory in America (the other 3 are in 3 different countries) and also the highest. We'll also visit Stonington, one of Maine's oldest fishing villages and we will take a peak at Castine, which is home to one of America's few merchant maritime acadamies. We end our day in Boothbay Harbor. It is about as picturesque a place as you can find and one of my favorite stopping places. Lobster anyone?
Day 6 – We continue our wander south as we work our way towards Brunswick. From here we do something I rarely ever do – we hop on the highway for approx a 45 minute ride south to the outskirts of Portland, which is the biggest city in Maine. We ride through here for two reasons, a) It's got a great waterfront area in the old town and 2) It's also got Portland Head Light, one of the most photographed and beautiful lighthouses in all of Maine. Continuing south we come across several more beautiful Maine coastal towns usually ranked in the top 10 including Kennebunkport and Ogunquit. Of course we'll stop for photo ops and refreshments. We ride on south threading our way through Portsmouth, considered by many to be the prettiest city in New Hampshire, cruise along the NH coast to our final stop for night in Hampton.
Day 7 – We wrap up a great tour with a group breakfast, say our farewells, until the next tour 🙂 to our new found friends and then head back home or onto to our next rides.
KEY DATES
If you would like to come sooner, or stay longer, hotel arrangements can readily be made to suit your schedule.
When to book your reservation obviously depends on your schedule. As a rule I suggest

at least 3 months in advance

 

to ensure that we can book the rooms you want

and to secure a place on the tour. We are staying at some of the most sought after hotels and inns in the most desireable locations – so sooner is better. There is

a limit of 7 motorcycles

or 10 people, whichever comes first, per tour. 
The final cut-off date is technically 30 days before the tour starts.  If someone contacts me to sign up with less than 30 days to go every effort will be made to accommodate you.
MINIMUM NUMBER OF TOUR MEMBERS
5 riders or 7 Tour Members
HOW TO BOOK THIS TOUR
Please "Contact Me" by telephone or e-mail to book your spot on this tour. I am not a paperwork intensive person. So, the process of making a reservation and getting what I need for my records is pretty simple.
Feel free to contact me to ask any questions about my tours. If I can be of help in any way I'll be glad to do so.
Final Thought – Be forewarned – the coast of Maine is a mesmerizing wonderland. The more I go there the more I want to go back – it is just so cool. Beautiful rocky coasts, sandy beaches, unforgettable fishing villages, wonderful places to stay and eat and all kinds of oudoor actvities – it really casts a spell that is almost impossible to break. You've been warned

.